Taken from Favim
After my ever looming exams, at the end of July, my lovely friends and I have planned ourselves a girly trip down to Dublin
on the 25th to the 28th as a post exam treat.
So for my trip to Dublin with my crazy bunch of friends I unfortunately will be getting the train down by myself on the 26th, due to prior commitments. The journey itself roughly takes about 2 hours, sitting for 2 solid hours in those chairs on the train isn't the most fun or comfortable situation.
Yay...
So these are my on-the-move / travel essentials that I will be bringing in my bag or will fit in my handbag to make the journey more comfortable, fun and hopefully make the train journey not feel as long and lonely.
I'm not good for sitting for long periods of time I can be quite fidgety..
*Y

ou never know when you'll need them
Ipod fully charged & full of great summery songs/playlists - Dublin won't require depressing music!

Magazines & Books/Kindle - depending on what book I'm reading at the time, either

from my book list

or other.

Deodorant

/ body spray or perfume - for freshening up (small spaces can be very warm)

Mints or chewing gum!

Bottled water

Pain Killers

*

Snacks such as fruit, sweets, Diet Coke or coffee (Does

Caff

è

Nero stay open past 5??)
Plasters

*

Hand Sanitizer

*

Hand Cream

My camera - for

OOTD's

, about the trip etc

Sunglasses - for possibly tired looking eyes on the way back due to hangovers xD

A Hair and Outfit Protector aka a Mini Umbrella - in case of emergency rainfall.

Small amount of cash

*

- in both currencies ( Pounds £ and Euros

€

)

Notebook and pen

*

My friends to help pass the time & to play entertainment monkeys during the journey, I demand it of them!

This no longer applies. :/
Update:
Turns out a friend of mine will be coming down to Dublin later with me so I do have an entertainment monkey!
Roomy bag for my clothes & things- something

thats

practical and

comfortable but still looks cute

.
This is slightly random.. but traveling via train ever since my friend Debra showed me the film 'Before Sunrise' always makes me kinda wish I'll have a
Jesse and Céline moment.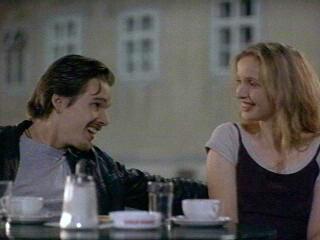 Do you kinda wish that too or is that just me?..
I'll do a post on all the clothes/shoes/makeup etc I'm bringing closer to the times as well as a post on the trip when I get back and my normal posts I usually blog!