As mentioned before I am stressing over exams and was in much need of a bit of retail therapy. So after a great day spent at my lovely americano friends house baking scrumptious cookies, you can find the recipe

here

and sun bathing in the summer like weather Northern Ireland rarely receives while being complimented on my music playlist :) I decided to make a few purchases to end a great day!
So starting off I bought a new book to add to my ever growing pile of books I plan to read over summer. I got Anne O'Brien's; The King's Concubine
here
for only £3.92!!! Bloody bargain especially as it was free post and packaging! :)
Product Description from Amazon:
One marriage. Three people. Proud king. Loving wife. Infamous mistress. 1362. Philippa of Hainault selects a young orphan from a convent. Alice Perrers, a girl born with nothing but ambition. The Queen has a role waiting for her at court. 'I have lifted you from nothing Alice. Now you repay me.' Led down the corridors of the royal palace, the young virgin is secretly delivered to King Edward III - to perform the wifely duties of which ailing Philippa is no longer capable. Power has a price, and Alice Perrers will pay it. Mistress to the King. Confidante of the Queen. Whore to the court. Her fate is double edged; loved by the majesties, ostracised by her peers. Alice must balance her future with care as her star begins to rise - the despised concubine is not untouchable. Politics and pillow talk are dangerous bedfellows. The fading great King wants her in his bed. Her enemies want her banished. One mistake and Alice will face a threat worse than any malicious whispers of the past.
I have never read any books like this or any of the well known Philippa Gregory's novels, but it seemed interesting enough especially as a friend had mentioned it before so I thought why not this be my first of these kind of novels?
Now for

E

b

a

y

:
First I got myself this gorgeous square turquoise ring
here
. I have wanted a ring that looks like this for ages and I saw this and just fell in love. Also it's ajustable so I can put it on any of my fingers :)
Secondly I got this make up storage box
in this shop
in the blue flower print which I thought was so pretty! Really needed one of these as my make-up is scattered everywhere and is in need of a place where I can actually find the things I need.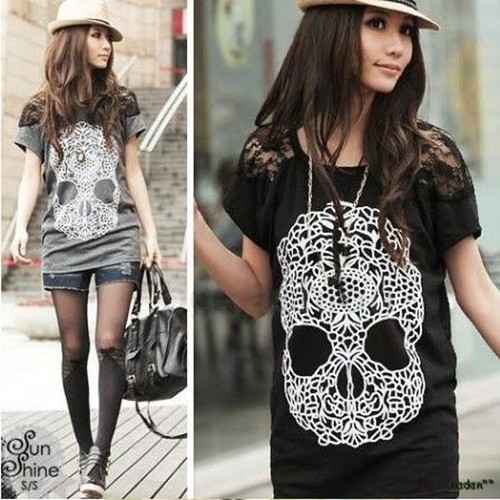 Thirdly I got this cute lace skull print top from
here
in the grey colour just because I thought it looked really nice and I am needing new tops anyway. I adore the lace detail around the top and shoulders!

And last but definitely not least I got myself a new LBD from
this shop
as the only one I have has a very low back and frankly the backless bra I have is useless! So I wanted a new one and got this gorgeous little number!
Everyone
needs a good LBD in their wardrobe, it's an essential wardrobe must have, well in my opinion anyway.
☮